Explorations Elsewhere
One of the truths that was reinforced for me during my circumnavigation was that the discovery of many fascinating facets of life on this planet can be found in the oddest, and sometimes simplest, of places. Although there is nothing simple or even odd about the following website links, they will lead you to diverse captivating places. Such discoveries are a journey in themselves.
Carl Safina
Award-winning author of 6 books and over 200 articles, PBS host, naturalist, PhD in Ecology, founding president of the Safina Center (formerly Blue Ocean Institute) at Stony Brook University, named by Audubon magazine as one of "100 Notable Conservationists of the 20th Century," and a MacArthur genius award. My connection: he wrote a laudatory endorsement that you can read on the back cover of Voice of a Voyage. Photo by Barb Ferguson
CarlSafina.org and SafinaCenter.org
Rita Golden Gelman
Author of several children's books including More Spaghetti, I Say! and Why Can't I Fly? and author of the perfect escape book for adults Tales of a Female Nomad. Rita truly is a nomad and a citizen of the world. My connection: she wrote a fun endorsement that you can read excerpts from on the back cover of Voice of a Voyage or better yet click here and read her entire recommendation.
"For 10 years they sailed around the world on a 63-foot yacht, hanging out with whales, dolphins, manta rays, little blue penguins.....and even orangutans during a side trip to the jungle of Borneo. For 10 years this newly retired husband and wife interact with other cruising humans, with natives in the many cultures they visit.....and with birds and flowers and sea life of every color, size, and shape. Doann shares her dives into coral reefs, her nautical and personal challenges, and her research into the history of the many islands and countries they visit. It's all here: fear, joy, inspiration, and endless waves, the good kind and the scary."
Rosalie Turner
Award-winning author of several books with a focus on historical novels. Her latest book, March with Me, a moving story about the Birmingham, AL Children's March and the Civil Rights Movement with emphasis on what is needed for reconciliation. It's being used in schools and universities for its historical accuracy and sociological impact. My connection: She's my sister!
RosalieTurner.com
Herry (pronounced Harry) Roustaman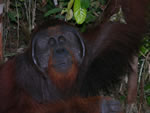 Herry is an Indonesian in the Kalimantan area who owns and runs this local tour company, which we used and I can personally recommend. Herry is the kind of person who helps many local people behind the scenes, such a paying school fees for some needy kids. When you travel overseas, especially for adventures, ecotourism, or local color, it's really important to use local entrepreneurs, not U.S.-based travel companies who put little back into the local economy you're visiting. You really experience so much more using local people.
OrangutanGreenTours.com
Doann Houghton-Alico
OK, I know this is odd, but I own this property and it is for sale. I love it, but it doesn't make sense for me to live there now. It's 5 acres of huge aspen and spruce, lots of fairy orchids, mahonia, violets, and other wildflowers in season, a ski area and golf course near-by and all of that.
DoannHoughton.com/angelfire