Reviews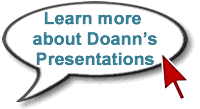 While we have traveled extensively, we have not sailed around the world. We attended Doann's presentation to the Summit County Women's Club (spouses were invited) a few years ago, while their circumnavigation was still in progress. She presented terrific photos and video clips that added depth and meaning to her discussion. Her understanding of various local cultures was intriguing. Doann explained that since their boat was their home they created their own itinerary and schedule. This allowed them to take the time to become more involved with small local communities, families, and individuals. In addition to visiting the local people in their environment, Doann invited villagers aboard their floating home. That created a very different relationship with the locals than that of a tourist, even an interested, caring tourist. Doann interacts well with her audience and encourages discussion and thought about what binds us all in universal themes, as well as showing us aspects of unusual cultures we were not aware of. We think Doann and her presentation are terrific!
J and JF, Dillon, Colorado
Doann, My wife has several times volunteered that your presentation was among the best prepared, most interesting, entertaining, and most effectively presented that we had seen in our years of attending Explorers Club functions. I definitely agreed with her. Thanks.
JG, Rocky Mountain Explorers Club
Dear Doann, Your presentation on your round the World sailing trip was tremendous. Our Explorers Club Chapter members could not have been more pleased. The visual materials lent real life to your trip. Your talk could not have been more gripping. Everyone enjoyed the bravery and determination of you and your husband. I especially appreciated the connection you made to our audience in the question and answer period. Thanks again for giving us such a fine program.
BS, Vice Chair for Programs, Rocky Mountain Explorers Club
Intellectual. Insightful. Inspiring. Doann Houghton-Alico's stories and photography of human connection and healing paint a global portrait of humanity's ability to overcome despair through relationships and cultural traditions. Doann's rich, emotive prose poetry offers insight into the mind of a global explorer, one whose discoveries are not monumental landmarks and uninhabited islands, but rather weather-worn smiles, sea salt-stained hands, and life-affirming psalms eschewing deep from within the human heart. Audiences interested in broadening their worldly perspective while appreciating playful, dynamic narrative non-fiction and vibrant, stirring photography will relish what Doann has to share!
JB, Lake Dillon Theatre Company
Circumnavigating the Seven Seas is, in itself, a journey in faith, and this literary journal is the fruit of that faith. Each stop along the ten-year voyage reveals new faces and clear insights to both the navigator and her reader, from Mayan women in Mexico and Antonio in Guatemala, to the widows of Eritrea, Elena from Cyprus, and even the dancing silver fish of the deep. Doann Houghton-Alico turns these chance encounters into engaging stories and poems, each a unique and exquisite pearl, still glistening from the sea.
As you sail with her and her husband around the globe, you will also discover the fruits of this journey, uncovering the same humanity under many different guises, extending kindness, compassion and hospitality even in the midst of poverty and devastation. All are gifts this navigator-writer has brought home to share with readers who are willing to broaden their horizons beyond our narrow, land-locked boundaries.
AJG, chair, Columbine Poets, Colorado state poetry society
Doann Houghton-Alico's beautiful "Dancing Fish" is a delight on many levels. The lyrical writing and poignant poetry speaks to someplace deep inside us; the sharing of other cultures opens our eyes, mind, and heart; the practical lessons about living in our world are urgently meaningful. This tantalizing taste of evocative writing makes us most anxious for the release of her book, "Voice of a Voyage." Doann Houghton-Alico is truly a gifted writer!
RT, prize-winning historical novelist
Listening to Doann read her poetry as I watched her photos was a powerful and transformative experience! Through her words and her insights, I could explore a world I've never known and understand the heart of a true explorer. Doann's travel reaches far beyond geographical locations and enters communities of hearts and minds.
VG, San Diego, CA
Read about Doann's presentation in Marblehead, Massachusetts on this blog by one of the attendees. The post is "Dancing Fish: A Sailor's Tale at the Library."